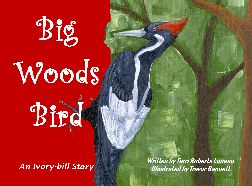 It's a bird! It's a book!
It's a story of rediscovery!
Written by Terri Roberts Luneau, wife of David Luneau, the Ivory-bill searcher who captured the elusive bird on video.
Illustrated by Trevor Bennett, a Studio Art graduate of the University of Arkansas at Little Rock.
Selected as the first Butler Center "For Arkansas Book".
Book description:
Enter into the magical but very real world of the Big Woods of eastern Arkansas and discover what it is like to roam the remote reaches of a swamp forest in search of the elusive Ivory-billed Woodpecker. The poetic verse and innovative paintings will inspire a new generation with an appreciation of the old forest and its creatures.
A short non-fiction section includes age appropriate information about the latest developments in the search for the Ivorybill, including photographs from the actual search that succeeded in documenting the bird's continued survival.
Ages 3 and up. Full color, 36 pp., copyright 2005 Kury Lane Inc., all rights reserved. Suggested retail price $8.95 paperback, $15 hardback.
Paperback ISBN: 0-9768839-0-2
Hardback ISBN: 0-9768839-1-0
Two of the 16 illlustrations: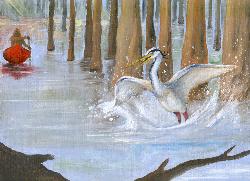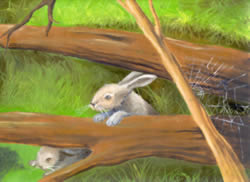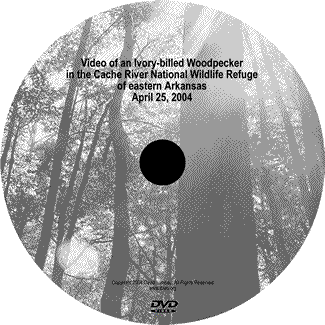 Now Available - a DVD of the April 25, 2004 historic video
You can now own a copy of the video used to show the world that the Ivory-billed Woodpecker is not extinct. The DVD contains the original video with sound as well as a narrative by David Luneau, the lucky guy who got the shot.
There are slow motion and zoomed versions of the video clip, so you can more clearly see this magnificent bird that flies away from the camera at 8.6 wing flaps per second. The DVD runs in a loop of about 9 minutes, so it is suitable for kiosk or display use.
If you view the DVD in your computer, you will find that it contains a copy of the actual video file as well as tiff format stills from the interesting parts of the video. As a special bonus, there are some scenes from a re-enactment where moving models of both Pileated and Ivory-billed Woodpeckers were used to see how the two birds would look in flight on a blurry video. The same video camera located at the same distance from the birds and focused just as poorly as in the original video was used to re-enact the scene.

We think you will find the re-enactment scenes quite revealing!
Copyright 2004 David Luneau, all rights reserved. Suggested retail price $20.
IBWO Conservation Prints and Stamps
Visit the official Ivory-billed Woodpecker Conservation Stamp Print program to learn about how to support IBWO conservation and research by buying conservation stamps and prints.

We have 60 remaining artist proofs (only 400 in the series) of the "Searcher Team Series Print" with a mint conservation stamp for sale. They have been signed by four searchers - Gene Sparling, Tim Gallagher, Bobby Harrison, and myself. I have every fourth number available for sale: 1, 5, 9, 13, ... 397.
Numbers gone so far : 1, 5, 9, 13, 17, 21, 25, 29, 33, 37, 41, 45, 49, 53, 57, 61, 77, 97, 101, 105, 109, 113, 117, 129, 133, 137, 141, 145, 149, 153, 157, 161, 165, 173, 181, 197, 205, 229, 233, 245, 249. Specify a number when you order if you have a preference. Many of the remaining prints are framed with acid-free double matting and UV-resistant glass. Send me an email if you want to see and/or purchase one.