Peeper cam background
This "new, smaller" wireless camera came about as the result of several factors coming together. After building the camera described below and seeing how well it worked in the field for several years, I had a few requests for a smaller version from researchers that worked with the smaller Red-cockaded Woodpecker.
In July 2010 I was contacted by Kaitlyn Thomason, a young lady who had attended the Arkansas Audubon Society's Halberg Ecology Camp. She wanted to do something to help Red-cockaded Woodpeckers and the researchers that study them, so she applied for a grant that would have funded me to build 15 of the cameras to give away to researchers. We didn't get the grant, but I decided to proceed with the project on my own as a commercial venture.
The first version

In 2006 I began working with Brandon Noel, then a PhD candidate at Arkansas State University in Jonesboro under Dr. Jim Bednarz. In the picture at the right, you can see Brandon (right) and his brother Duane raising a first-generation wireless cavity inspection camera to a Pileated Woodpecker (PIWO) nest cavity. Brandon studied PIWOs over a several-year period in eastern Arkansas for his PhD, which he received in 2011. He and his field crew monitored numerous nests and radio-tagged many birds to study their movements. They worked extensively in both the White River and Cache River National Wildlife Refuges. They kept an eye out for IBWOs, but never reported seeing one to me.
The nest cavity in the Water Tupelo (pictured at right) is 49' high, which makes getting a peeper-cam mounted on a wobbly 50' telescoping pole into a ~3.5" diameter cavity an extreme challenge. To make matters worse, the sun was almost directly above, so seeing the cavity from the ground was very difficult. The camera swayed about on the end of the pole and finally went into the cavity. There were two eggs in the cavity (the video taken by the wireless camera was recorded on a camcorder on the ground for later reference).
Click on the picture for a larger version - look for the wireless camera at the top of the white pole.
The one-minute video below shows the camera in action at this cavity:
The paper that Brandon Noel and I co-authored detailing the wireless cavity-viewing camera that I modified for his use was published in Vol. 81, No. 2 of the Journal of Field Ornithology.
---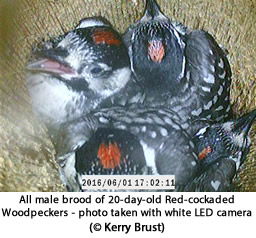 Wireless Cavity Inspection Camera
---

Version 3.3 is now available. In addition to having the longer taper of version 3.2, the tripod mount area is aluminum. This design is much more rugged than the previous plastic tripod mount area.
NOTE: Version 3.3 is available only in the XL length (8" depth). The price remains the same, but the 6" depth original length is no longer available.
This color camera transmits images wirelessly to a handheld video monitor/DVR where they can be viewed and recorded as still images or as standard-definition video. The camera housing is made of durable, light-weight ABS plastic that is made using a 3-D printer. Both the camera and monitor have built-in lithium-ion rechargeable batteries. The camera will fit into cavities as small as 3.8 cm (1.5") diameter.
The camera now comes in just one size:
XL - reaches 8" (20.3 cm) into a cavity and weighs 122 g (4.3 oz).
For comparison:
Standard deck of cards - 100 g
2 Grade A large eggs - 120 g
ibwo.org XL wireless camera - 122 g
The small size makes it suitable for studying Red-cockaded Woodpeckers, bluebirds, kestrels, screech-owls, and many other cavity-nesting birds. The light weight makes it easy to carry and to manipulate at the end of a long, flexible pole.
The monitor/DVR screen is 3.5" measured diagonally. A 4GB micro-SD card is included.
The monitor/DVR has built-in digital video recording capability, as well as a rechargeable battery. It will record video or still images and is compatible with NTSC or PAL formats (all cameras we sell are NTSC). Recorded images can be copied to a computer via USB cable (included) or by removable micro-SD card (included, with SD adapter). Video can be played back using the monitor or by connecting to an external monitor using the video cable (included). Note that the video does not have audio.
There are two illumination types available:
Infrared (IR) LEDs - gives grayscale images inside cavities when the LEDs are on. Images from the IR model are similar to the images seen in the video in the sidebar on the left of this page.
White LEDs - four bright white LEDs illuminate the cavity to give a color image - see the image and video below of the colored Easter candy in a Red-cockaded Woodpecker artificial cavity. For a full-color image, order the white LED option.
A full battery charge on the camera and the monitor both last around three hours. The LEDs on the camera are controlled by a photosensor, so they don't turn on until they are inside the cavity, helping to extend battery life.
Included with each camera:
Wireless camera with built-in rechargeable Li-ion battery
Monitor/DVR with built-in rechargeable Li-ion battery
120V charger that works with either the camera or the monitor
12V DC charger that works with either the camera or the monitor
Charger "splitter" that allows charging of both the camera and the monitor simultaneously with either the 120V or 12V charger (or the optional battery pack)
4GB micro-SD card with full-size SDHC adapter
USB and video out cables
Silicone protector for the antenna end of the camera unit
Instruction manuals
Water-resistant PVC case with lanyard attachment ring for the camera unit
---
Portable Battery Charger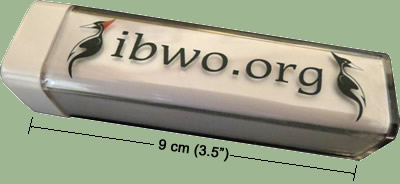 The optional portable charging unit ("battery pack") can be used to recharge your wireless camera and your monitor/DVR. You may find this useful during long days in the field. (It can also be used to charge many other devices, such as cell phones, if you have the proper cable.)
The battery pack will completely charge your camera three times before it needs recharging.

The battery pack comes with two cables: one for charging the camera and/or monitor from the battery pack (note that this is a custom cable with the negative tip polarity for the ibwo.org camera and monitor), and one for recharging the battery from a USB source, such as a computer or USB power supply. By using the charging splitter cable that comes with your camera system, you can charge two devices at the same time (camera and monitor, two cameras, etc).
---
Camera Colors
April 12, 2018 - color(s) available: ORANGE, YELLOW.





If you have a color preference, send an email to david@ibwo.org with your color preference(s). If your color preference is not listed above as "available", it will take a few extra days to make the camera body.
---
Pricing and How to Order
Camera systems include camera, monitor/DVR, micro-SD card, flex mount, antenna cover, carrying case, manuals, and all charging cables needed, i.e. you don't need to buy anything else. Orders will generally be filled and shipped within two days. You will be notified if the order will be delayed.
| | |
| --- | --- |
| XL camera system (8" depth) with infrared LEDs: $550 | |
| XL camera system (8" depth) with white LEDs: $595 | |
| Replacement/extra parts: | |
| Portable battery pack for charging camera and monitor: $25 | |
| Extra monitor/DVR: $175 | |
| Replacement flex mount: $8 | |
| Replacement silicone antenna cover: $8 | |
| Extra 120V AC charger: $15 | |
| Extra 12V DC charger: $15 | |
| | |
Shipping charges (USPS Priority Mail) to the continental U.S. and sales tax (for Arkansas residents) will be added at checkout. Shipping is calculated from the total sales amount as follows:
* Up to $100 - shipping is $6
* > $100 and up to $400 - shipping is $12
* Over $400 - shipping is $20
Contact us for expedited shipping or shipping to non-continental-U.S. addresses.
Prefer to use a purchase order or pay by check? Send an email to david@ibwo.org with details.
---
Accessories
Other than the portable battery pack described above, we do not sell any accessories for the camera system. The camera and monitor come ready to use as shipped. However, there are a few items you may want to purchase:
Telescoping pole - We have used a 50' (15 m) telescoping fiberglass pole for reaching tree cavities. You can find the Seco CMR-50 that we used at Tiger Supplies. Be sure to select the 50' option (model 90182).
Carrying clip - If you are planning to climb trees (be careful!), you may want to use a carabiner to clip the camera case to some secure strap on your person.
---
Warranty Information
The wireless camera and monitor/DVR are warranted to be free from defects for a period of 90 days from the date of purchase. This does not include damage from water or from abuse. Please contact david@ibwo.org for return instructions.
---
Repair Information
If you need service on your camera system, please contact david@ibwo.org and describe the problem. You will receive return instructions and a price quote on the repair. If the item cannot be repaired, you will not be charged.
---
Below you will see a still image from inside an artificial Red-cockaded Woodpecker nest cavity using the white LED version (click on the image to see the original size and quality). Also, click on the video to see color footage from inside the same nest cavity.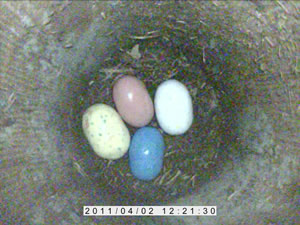 ---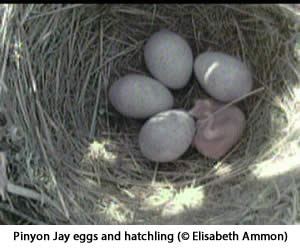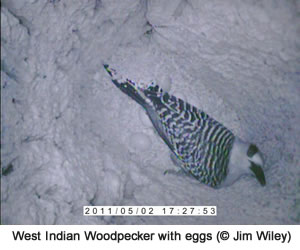 Dr. Jim Wiley of the University of Maryland Eastern Shore took the first of these cameras to Cuba to help with his research. The image to the right shows an adult West Indian Woodpecker with eggs. Dr. Wiley's camera has infrared LEDs, so the image is grayscale. Click here to see more images from Cuba (Fernandina's Flicker and Bare-legged Owl).