ibwo license plate
Arkansas residents can get a license plate with the IBWO. The extra $35 you pay for the special plate goes to the Arkansas Game and Fish Commission and is used for conservation scholarships and conservation education. Here is my first one (I have several now).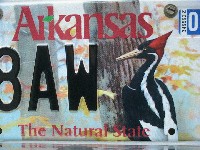 Old News
---
6th anniversary - April 25, 2010, marked six years since I took the video. Coincidentally, perhaps, there was a nice article on the search and conservation efforts in the Arkansas Democrat-Gazette on April 23. (I'm not sure how long this link will work.) Happy searching to all!
---
Thanks - Many thanks to the East Cascades Bird Conservancy members in Bend, OR, for coming to hear me talk at Birders Night on November 19, 2009. I hope you all enjoyed it and learned some new things about IBWOs and the search findings.
---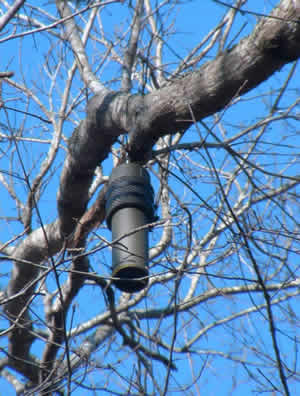 Promising technology - Mark Gahler of South Run Avian Bioacoustics has developed some listening devices that filter sounds for double-knocks, record the "good" sounds, and send back samples via the cellular network to an FTP site. He designed and built the units himself and has deployed some in Louisiana and Arkansas. We deployed three acoustic units and one cell node a couple of weeks ago. When Mark gets some of the initial problems resolved, this will be a good technology for listening for IBWOs or other vocalizers of interest.
The acoustic node (seen at right) hangs unobtrusively high in a tree. The cellular node is similar in size and appearance and is also deployed high (10m+) in a tree.
---
Woodpecker film - Alex Karpovsky's film Woodpecker is making the film festival circuit. I saw it with a group of IBWO folks in October 2008 in Memphis. It is a very funny movie - well worth seeing! It's a blend of reality and fiction, put together with an intriguing story line. Don't look for the true IBWO story here, just some good laughs. It reminded me a bit of Sideways - quirky characters and a funny story. Check out the schedule and read more about the movie at www.woodpeckerfilm.com. There are now DVDs for sale at places like amazon.com.
---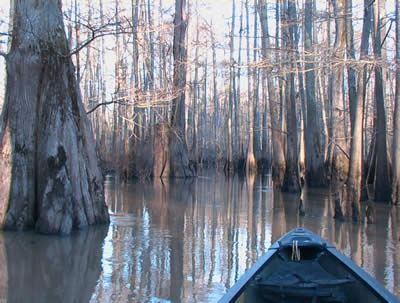 First day of Spring - The first day of Spring (March 20, 2010) was a gorgeous one! I deployed three remote cameras to monitor cavities, and enjoyed hearing the sounds of some early migrants, such as Yellow-throated Warbler and Yellow-throated Vireo. The Ruby-crowned Kinglets were cranking up their songs and preparing to leave us for the breeding season. The woodpeckers were drumming loudly all about. March and April are my favorite months to search - the weather is generally mild, the leaves are not fully out yet, and the bugs aren't out yet either.
---
Gene Sparling first sighted the IBWO in Arkansas five years ago on Feb 11. The search continues, sighting reports continue to come in, and people still argue about the evidence. Gene, meanwhile, has taken up sculpting wood. Check out Gene's work at his website.
---
Fielding Lewis, author of Tales of a Louisiana Duck Hunter, passed away in late December 2008. His 1971 photographs of an Ivory-billed Woodpecker in south Louisiana have been the subject of controversy ever since they were taken. A compelling argument for the authenticity of his photographs is that he wanted his identity and the location where the photos were taken kept secret. What did he have to gain by faking such photos? He was a very interesting person, and he will be missed.
---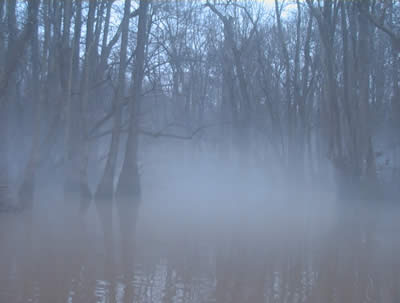 Foggy bottoms - It was foggy again on Jan 3 - almost too foggy to find my way through the channel along Bayou De View.
I did manage to find some scaling identified by Dave and Blake Meisinger on Dec 31 and deploy a remote camera on it. Even though the scaling was fresh, no birds of any sort came back to the tree during the six-day camera monitoring.
---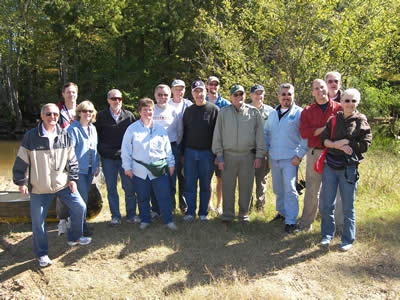 Back to the swamp - After taking most of the 2008 summer off from IBWO searching, I made it back out to Bayou de View on Oct 17. The water was quite low, but the weather was splendid! The high was around 70 F and the sun was shining through the still-leafy canopy.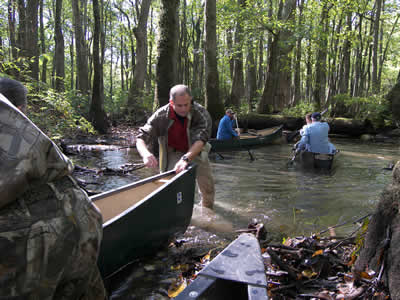 A great group of college biology teachers from around the country that were at a meeting of the National Association of Biology Teachers in Memphis came to join us on a field trip. It took teamwork and some wet feet to pull across some of the beaver dams we encountered.
---
Great fun in Florida - OK, we didn't go to FL to look for IBWOs, but we did tie IBWOs in to our vacation. First, I gave a talk at The Nature Conservancy's Blowing Rocks Preserve on Jupiter Island just north of West Palm Beach on August 7.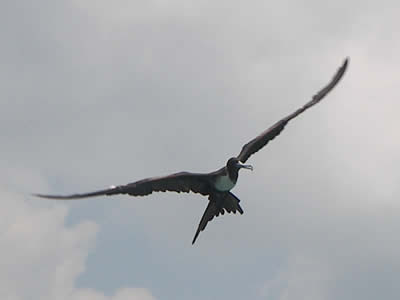 Second, we drove through the Big Cypress National Preserve - an area looked upon favorably by the mobile search crew last winter. We passed through the southern parts where there are no large trees - we didn't have time to seek out the more forested areas.
Third, we did get a photo of a large black and white bird with a large, ivory-colored bill! The "alt tag" on the photo tells the species name of the bird shown in the picture to the right.
---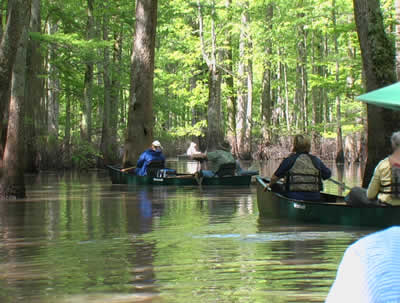 A beautiful day in the swamp - Gene Sparling and I led a canoe trip on Bayou De View for The Nature Conservancy on May 9, 2008. The water was about 4' lower than its peak in April, the temperature was pleasant, the mosquitoes were few and far between, and the birds were singing even at noon. Water snakes were plentiful, and we saw a moccasin or two. A opossum even tried to get in one of the canoes during our lunch break.
Speaking of The Nature Conservancy - I can't say enough good things about the work this organization does. If you want to help with the IBWO, they will do a great job with your money.
---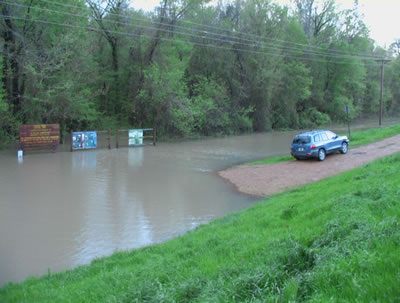 Water, water, everywhere! On both April 11 and 17 (2008) the water in Bayou De View was very high. This is the highest I have seen the water in Bayou De View in the four years I have been frequenting the place. See some more pictures from 4/11/08 including some bird pictures.
---
KATV report - The local ABC affiliate in Little Rock ran an update on 2/8 on the status of the search. Feb 11, 2008 was the four-year anniversary of Gene Sparling's sighting of an IBWO in Arkansas. Read the story here (you can also watch the video).
---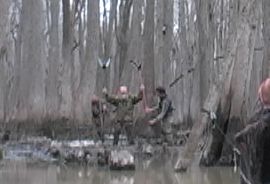 In March 2005 we did a "re-enactment" where we went back out to the site of the video with IBWO and PIWO models with movable wings and shot video with the same camera at the same distance, equally out of focus. There is a clip of the re-enactment on the DVD, but here is a still image from the video - can you tell which is the IBWO model?
---
Old growth and tall trees - Standing under 375'+ tall old-growth redwood trees is an indescribable experience. Only 4% of the old growth redwoods remain in the American west, but that's about 4% more than what remains of the old growth southern bottomland hardwood forests.
I put a few pictures here to give you an idea of what old growth looks like. Many thanks to Michael Taylor for the 2007 guided tour of some of the world's tallest trees!
---
Sad News - Larry Chandler passed away on March 17, 2007, apparently from pneumonia complications. Larry was a generous man and a great artist and will be missed by friends and family.
Two of his works are shown elsewhere on this page: the conservation stamp and the Arkansas IBWO license plate. In addition, he painted the 2005 Arkansas duck stamp that also has an Ivory-bill on it.
Our thoughts and prayers are with his family.
---
Click here (4.9MB PDF file) for a link to an interesting paper about possible beneficial relationships between woodpecker and oak trees in east Texas (by Bill Holliday).
---
Camera comparison - I wrote an article comparing five different models of remote cameras for Birding magazine, which was published in the March/April 2007 edition. The article compares cost, features, sensitivity (to birds), response times, ease of use, ease of service, battery types, and more. Check out the American Birding Association web site for information on becoming an ABA member or for getting copies of their magazine.
---
NOVA - NOVA ScienceNow featured the rediscovery of the IBWO as one of the top 8 science stories of 2005 on January 10, 2006. Watch it here.
---
---